The power consumption described in the equipment specifications must be taken into account when designing the networks, as some of the required functions will be lost when the equipment is switched on at a lower power (for example, the Ruckus R720 only has one of the four antennas in each frequency band). The following applies if you need to temporarily add a device to the network or if it is not possible to install a new switch with the corresponding capacity immediately.
By specifications only four R510s can be connected to the Ruckus ICX 7150-C08P, as this AP identifies itself as a Class 3 device that occupies 15.4 watts by the PoE standard. In most cases, however, the capacity of the AP USB port, is not required and power consumption is in the 7W class.
Consumption can be viewed with the switch command:
show inline power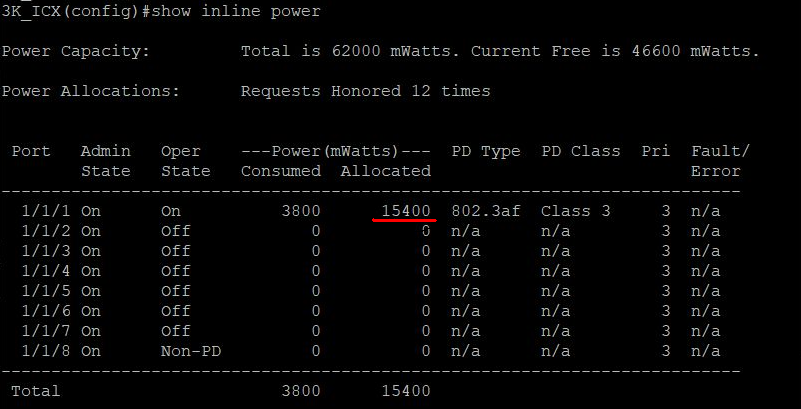 In practice, the consumption is lower and allows more APs to be connected to the Ruckus ICX 7150-C08P, if needed.
We connected three R510s to the switch and set all of them to power up 16 different WiFi networks, 8 in the 2.4Ghz range and 8 in the 5Ghz range.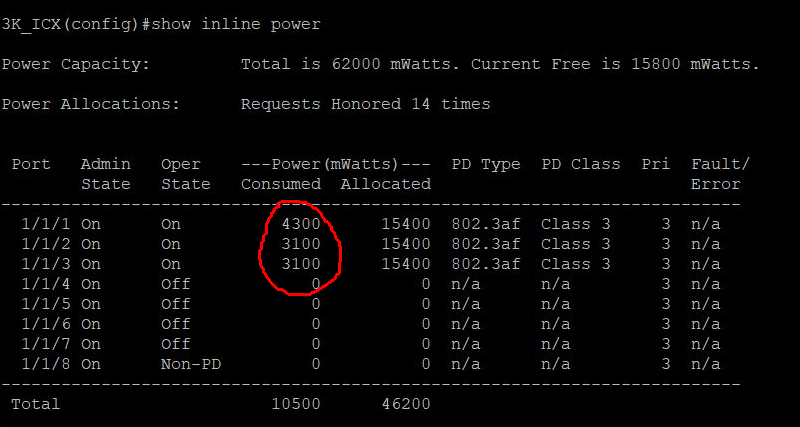 As you can see, the consumption is much lower than the standard allows.
If you now lower the power class of the switch port, it is possible to connect more APs to the device. With a Class 2 setup, the unit takes up 7W of power. When the 6 R510s are connected to a switch, the total power consumed is 42W, which means that 20W is still in reserve.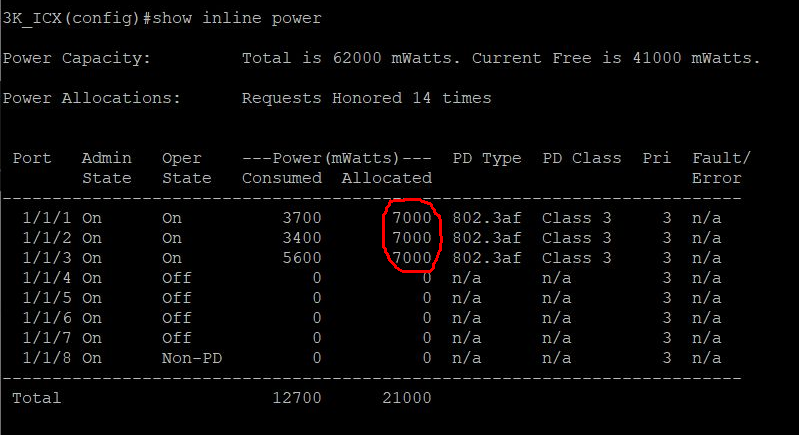 To change the port settings:
3K_ICX(config)#interface ethernet 1/1/2
3K_ICX(config-if-e1000-1/1/2)#inline power power-by-class 2
Warning: Inline power configuration on port_id 1/1/2 has been modified.
If you want to change all ports at once:
3K_ICX(config)#interface ethernet 1/1/1 to 1/1/8
3K_ICX(config-mif-1/1/1-1/1/8)#inline power power-by-class 2
You can also change the power limit without changing the class by specifying the desired power value in milliwatts:
3K_ICX(config)#interface ethernet 1/1/2
3K_ICX(config-if-e1000-1/1/2)#inline power power-limit 12000
The following is the measurement of the power consumption of other APs:
R610
without load
at mode 4,5 - 6 W
af mode 4,5 - 5,7 W
with load, speedtest
at mode 6,9 W
af mode 6,8 W
R730
without load
at mode 9,7 - 10,2 W
af mode 9,8 - 9,9 W
with load, speedtest
at mode 9,7 - 10,2 W
af mode 9,8 - 9,9 W
R320
without load
4,1 - 4,4 W
with load, speedtest
4,5 W
H320
without load
2,8 - 3,4 W
without, speedtest
4,7 W