Ruckus IoT server has reached software version 1.5 (version 1.4 news), which is currently the most versatile IoT convergence environment on the market. The IoT server allows you to connect a wide variety of wireless IoT devices to your Ruckus Wi-Fi AP devices: lamps, water thermostats, temperature sensors, water meters, e-cigarette detectors and tens of thousands more. Most of these devices meet the standards (ZigBee, LoRa, BLE), they can be immediately paired with Ruckus devices and quickly commissioned. It is worth reserving a few days of engineering to get acquainted with a completely foreign device and create control logic. Adding, managing, switching devices is as easy as adding and managing a Wi-Fi client. NB! IoT server licensing does not depend on the number of IoT devices !!!!
How is a large enterprise solution different from a traditional IoT solution and why is it needed?
Immediately a question appears: why is it not better to buy, for example, the lighting manufacturer's own control panel, software and AP? Unfortunately, these systems do not offer convergence and broadband network integration and security. So you would have different APs from dozens of manufacturers, multiple management systems, data in different systems on the Internet or on site. A similar concentration has taken place in computer networks over the last decade. Let's give you an example: you have 30 objects all over Estonia and you want to add a single passage (door locks) as well as thermal / pressure sensors in addition to lighting control, you have a Ruckus ZoneFlex IoT radio-enabled Wi-Fi network in all offices. These requirements take the IoT world from small office / home systems to the level of a wide area enterprise system. For example, if you are a house manager and you have 20 buildings across the city, there is no point in paying a monthly fee to operators for managing and transmitting 1,800 devices separately, even though this is still done today in water meter, heating control, etc. solutions.

But why not put your IoT devices on a cloud or carrier network and use everything on the web?
The issue here is exactly the same as in all other IT decisions, in many cases the cloud-based e-mail service, network disk, etc. are not suitable, in others it is suitable. IoT demands real-time systems that require very secure data communication and data processing. However, the biggest problem with cloud systems is the dependence on the choice of devices.
On the other hand, such Ruckus convergence is an IoT agile project that differs significantly from the current world of automation projects, where the solution is actually designed and handled most of the time with a completely morally obsolete technique. But what's even more modern, you can buy new equipment over time and gradually integrate it, similar to the current IT infrastructure, which is constantly being updated and improved, over and over.
It is a convergence software that combines Wi-Fi infrastructure, BLE, LoRa, Zigbee standards with thousands of different devices into a single IoT campus or wide area network. For example, if a large institution with offices around the world or a country has a Ruckus Wi-Fi network, it is possible to immediately install environmental sensors, door locks, lighting control, geofencing, etc. For example, the efficiency and comfort of the heating system can be improved in a few days and you don't even have to contact your heating system provider or boiler maintenance company to do so. Existing mechanical water thermostats can simply be replaced with ZigBee or Wi-Fi versions and add some more temperature sensors if necessary and use either a ready-made program or make your own little logic on the NodeRed server. The system is ready for use immediately, it simply adjusts the thermostats and optimizes the room temperature according to the use, if necessary. Speaking of this to real estate automation people, we get the same controversial treatment that we had in the software world before the agile world.
The Ruckus solution is a solution for a company or a large organization, where the telecommunications solution and business logic are created as a private network. The complexity of these systems is usually many times higher than, for example, a simple monofunctional service (reading watermeters, monitoring of an industrial process, automation of a heating system, etc.), which can also be called an IoT system. In the company's systems, sensors and modules from many manufacturers are often combined with common analytics and logic, such as positioning, environmental sensors, security systems, a wide variety of mobile apps, and so on. Ruckus' IoT platform allows you to connect thousands of different standardized IoT wireless devices, integrate them, and develop different software solutions yourself. Our software partners can help you create these solutions.
How is an IoT solution created? The IoT server has an open API and a built-in NodeRed server for quick configuration of logic processes, as well as ready-made modules for various manufacturers (which are not essential and can be created). Many manufacturers have their own analytics and logic systems and openness allows them to be integrated into the Ruckus ecosystem, such as Telkonet Energy, Kontakt.io and dozens of others.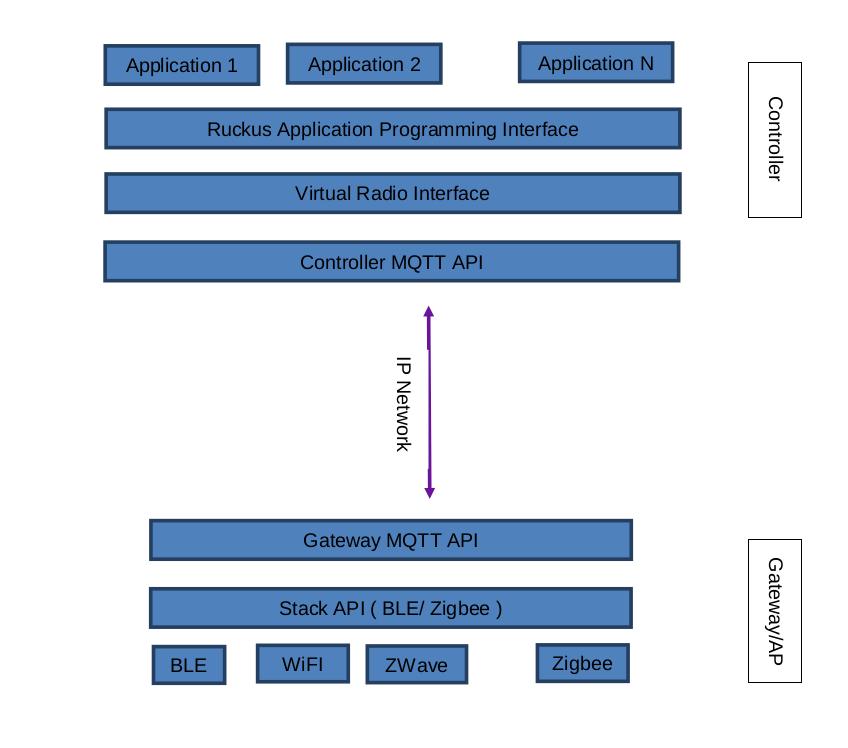 IoT network architecture

Ruckus' IoT system is highly redundant and allows high availability systems to be implemented. The virtual radio architecture frees low-power IoT radios from constant polling, the API can always be queried for the latest information sent by the sensor or, if necessary, do a wireless session to the device, which of course consumes the resources of a locally battery-powered device.
Ruckus AP-s R720, R710, R610, R510, H510, T610, T310, E510 allow the addition of a radio module to the IoT. Zigbee and BLE radio modules are already available inside the Ruckus R650,R550 and R750, LoRA can be added as a USB module or connect via ethernet.
LoRa Network server provides LoRa gateways managemnt with authenticate, approve, onboard and connect services. Ruckus LoRa network server contains also endpoint management with authenticate, provisioning, receiving packets etc. IT als oprovides traffic and radio managment. And the crown in Ruckus IO API to integrate into applications.