Ruckus has extensive capabilities to authenticate users on guest networks via social media. For example in Unleashed you can use Facebook, Google, LinkedIn, Microsoft, WeChat for self sign in. Here's how to set it up.
Unleashed
Unleashed > Create WLAN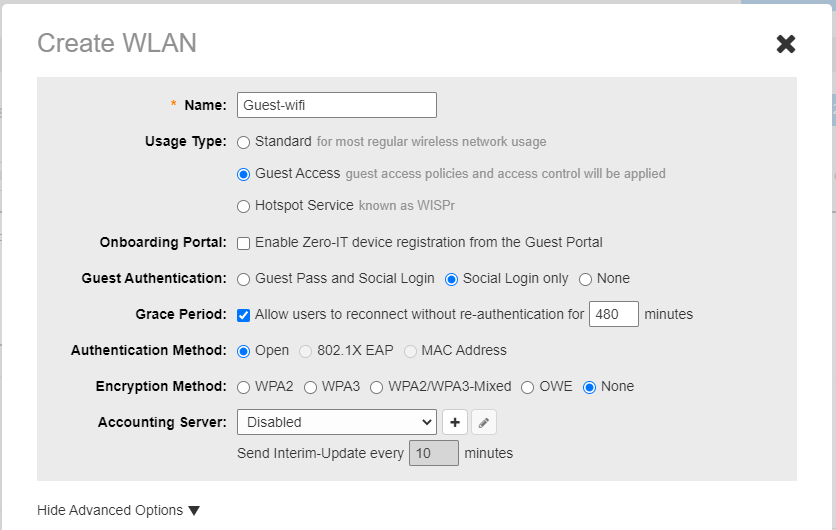 Click on Advanced at the bottom and you can choose which login options to use.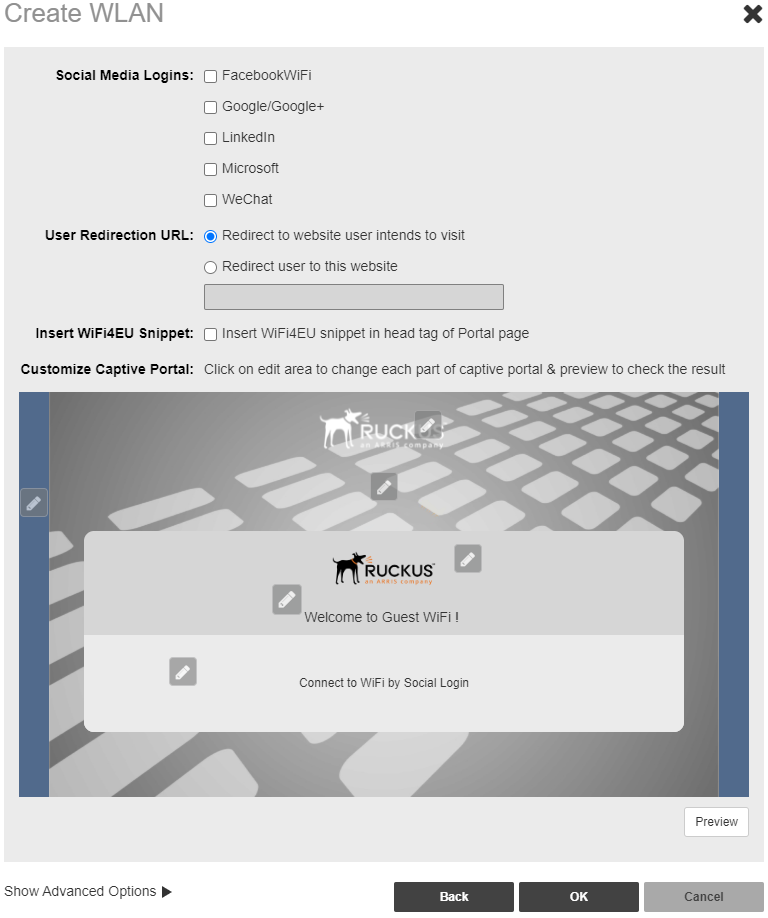 Ruckus Cloud
In Ruckus Cloud, start with 'Networks', 'Add Network'.Enter the desired name for the network, select 'Captive Portal' as the type. Click 'Next', select 'Self Sign In'. Click 'Next', you will get to the 'Onboarding' page where you can select one or more options to authenticate guests: SMS Token (sends the guest an SMS with a password that defaults to 12 hours, but it can be changed), Facebook, Google, LinkedIn, Twitter. You will then be asked if, after logging in, you'd want to redirect users to a specific website, such as the pace's owner's, but it can also be left inactive. Next, the new window will ask for the 'Portal Web Page' settings: Language, Logo, Welcome text, Advert, Marketing Message, Terms & Conditions. A preview of the portal page is displayed on the right. Next, you can choose in which locations this network is active: in the Venues list you can select on / off, after that you can also select APs in more detail (either all or groups, 2.4 or 5GHz, or both, the vlan number). Click 'Save' and you will return to the 'Venues' page. Next, 'Summary' is displayed. Here you can also select 'Advanced Options', from which it may be useful to add restrictions on guest network traffic.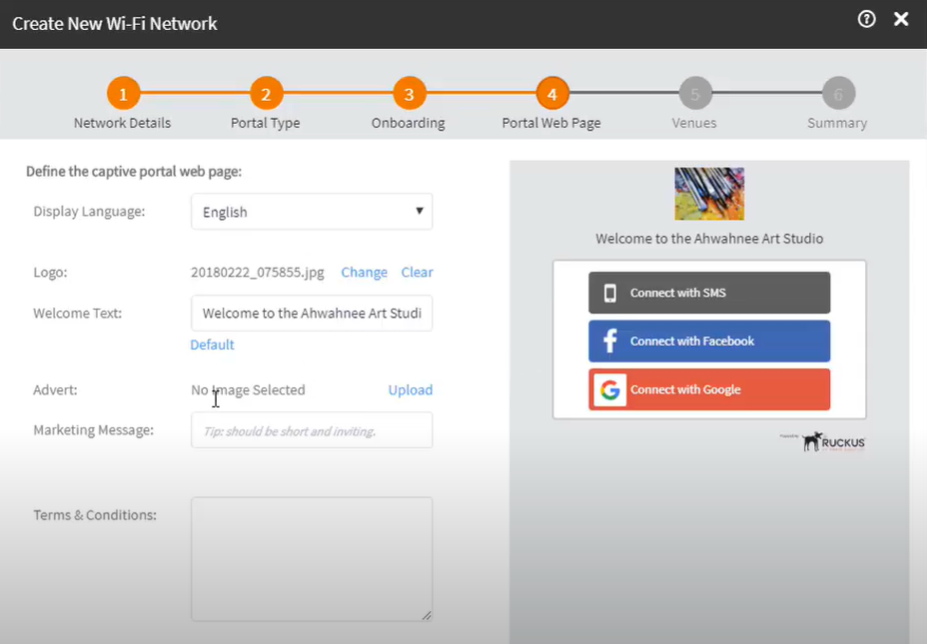 SmartZone
With SmartZone, social media authentication can be used not inside the controller, as in the case of Unleashed, but can be redirected to a separate portal website where you can create this capability yourself with scripts. 3KGroup can share for free a script for Facebook, just write to us. Smartzone is 99% virtual machine, hence it is trivial to run another portal virtual machine at the same environment. We can offer many turnkey solutions here.
The SmartZone side needs to be configured as follows:
Wireless LANs> select zone> Create (SSID). Authentication type: Hotspot, Method: Open, Encryption: None, Hotspot Portal: select the prepared portal configuration, see also the image below.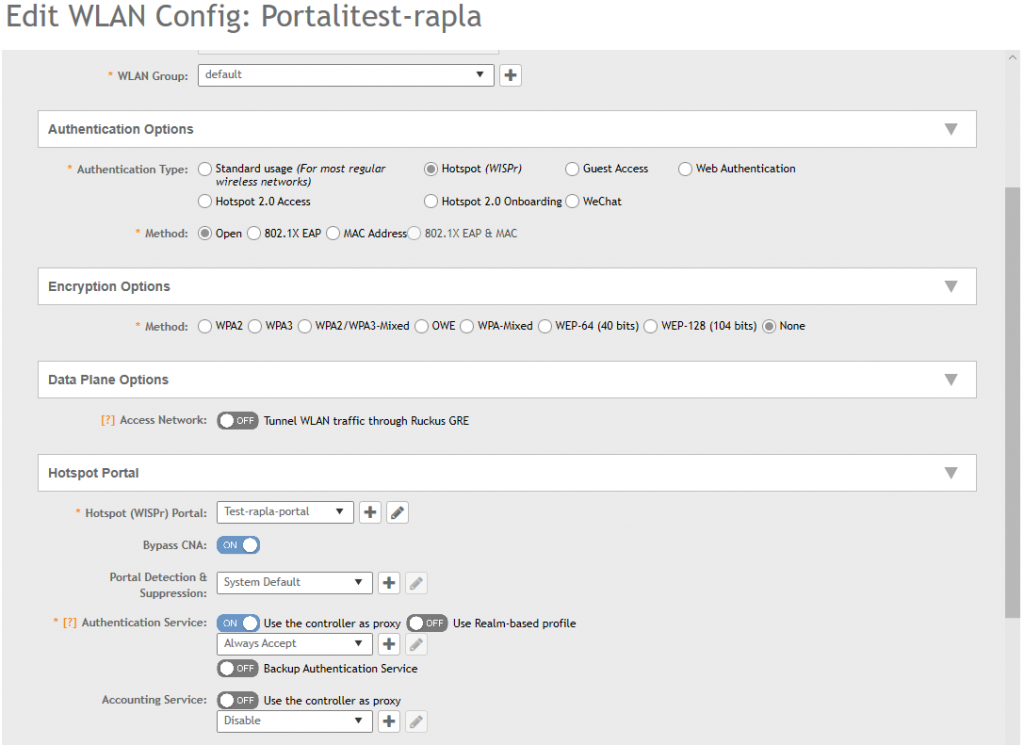 Portal creation and configuration: Services & Profiles > Hotspots & Portals > Hotspot (WISPr) > Create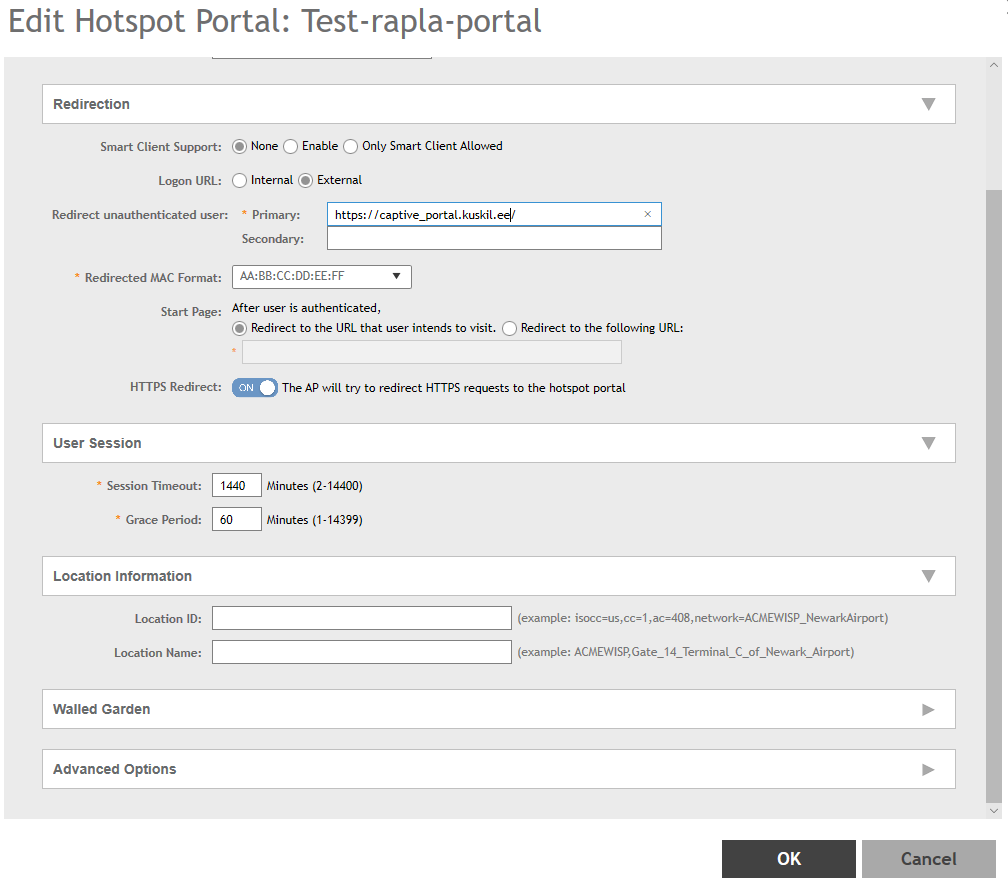 To communicate with the Captive portal you have to configure the SmartZones WISPr Northbound Interface username and password:
System > General Settings > WISPr Northbound Interface