Ruckus Unleashed is a highly capable controller-free WiFi management platform that allows you to connect up to 50 Access Points and generate coverage for up to a thousand customers. In this post, we'll look at how to add an Unleashed network to an AP that isn't connected with a data cable, but communicates with other APs on the same network over the air, increasing network coverage to places where the cable can't be routed. A wireless network between devices is called a Mesh network.
The Unleashed network connects to the Unleashed AP, while different WLANs can be configured for the APs.
Enable Zero Touch Mesh on Unleashed network devices.
Let's start by going to the System sub-section of the "Admin & Services" menu, where we will find the "Mesh" category. If Mesh is not yet activated on the Unleashed network, check the "Enable Mesh" box and click Apply.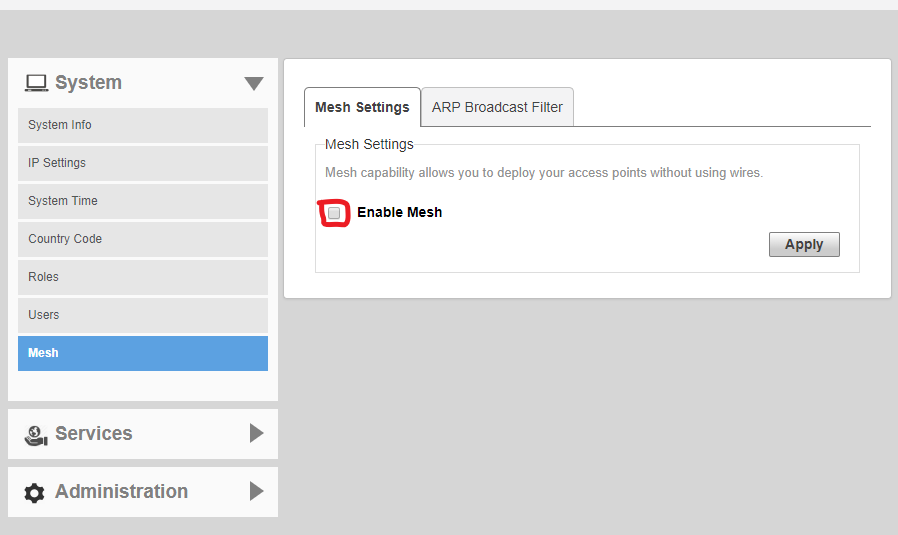 In APs, when the Mesh service is activated, the APs restart.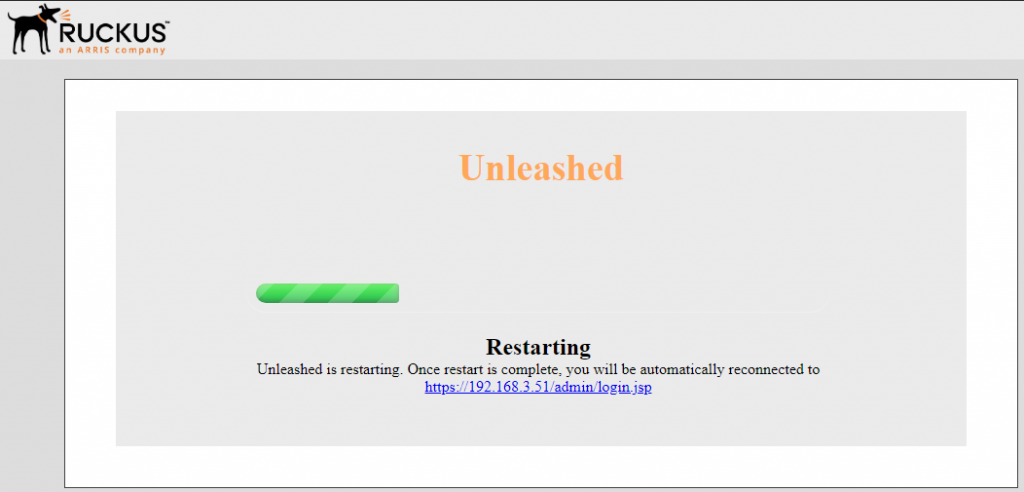 When Mesh is running, we can enable Zero Touch Mesh. We also add the serial numbers of the APs we intend to add to the existing Unleashed network as Mesh APs. To do this, press the "Add" button and enter the serial numbers. When all the serial numbers have been added, we press the Apply button, after which the configuration is sent over all the APs located in this Unleashed network.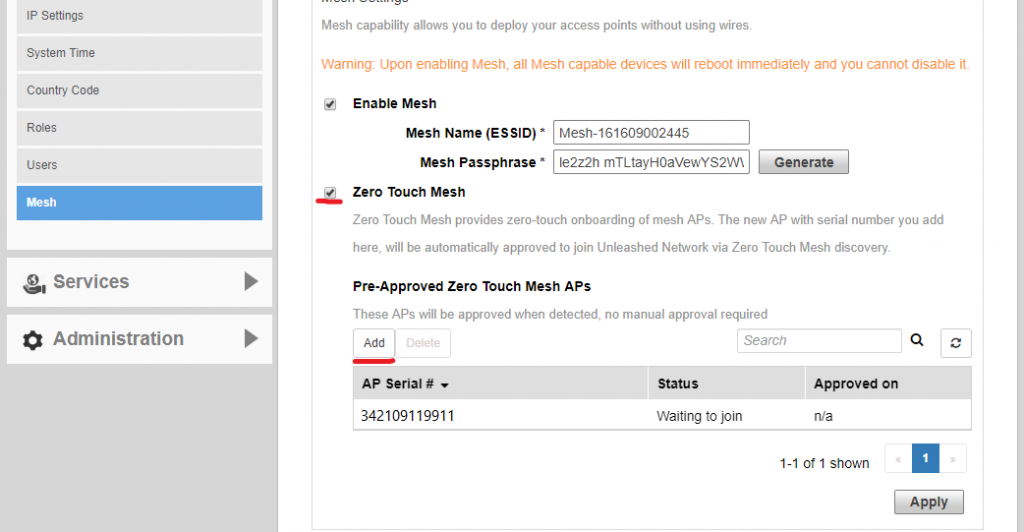 You can see that the added AP has the status "Waiting to join" or the Unleashed network is waiting for the connection from the AP. Now the next step is to launch a new Unleashed software with Mesh-capable APs and wait a few minutes for the new AP to discover the Mesh network and start syncing with it.
If a network with the activated Mesh service Unleashed finds a new Unleashed AP in its coverage area and its serial number is allowed in the list of APs, the network and the new AP will start synchronizing with each other. It may take a few minutes and during this time a new AP will be visible in the system, but its status will be "Disconnected". During this time, the device model and MAC address are displayed.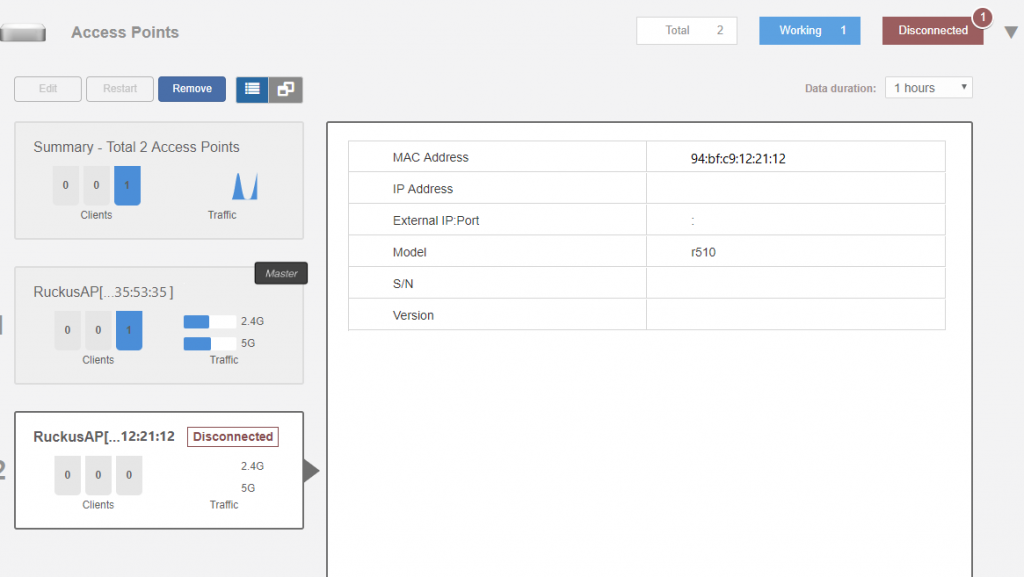 Once the devices have been synchronized and the new AP has become part of the Unleashed network, we will already see more information.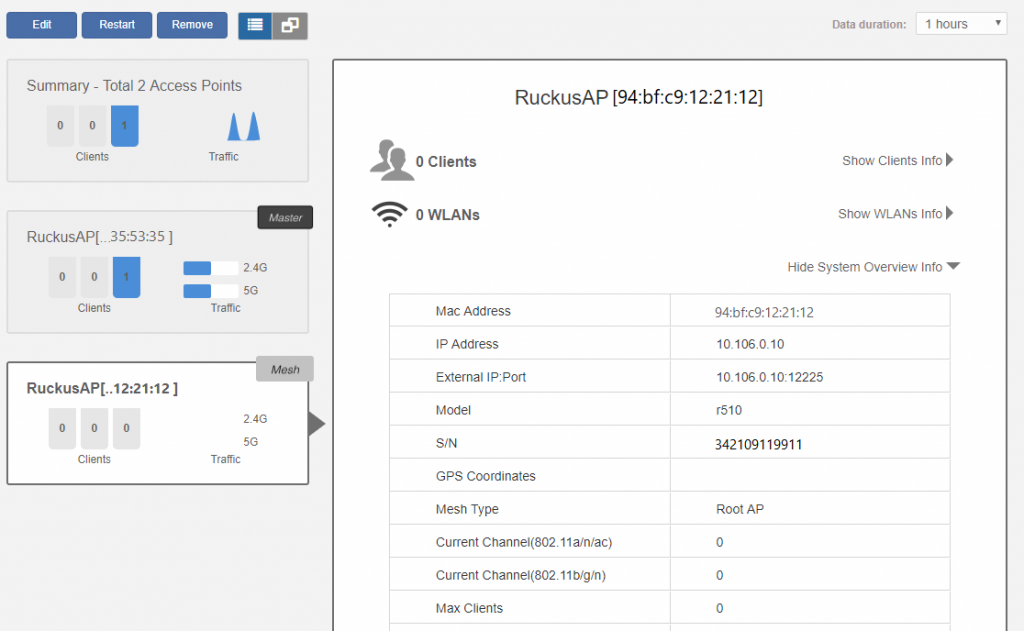 The device is now connected to the Unleashed network and offers the same capabilities as other network APs, providing customers with excellent WiFi coverage.
It is worth noting that if Mesh is activated in the Unleashed network, it can no longer be deactivated so easily. Deactivation requires the APs to be reset to factory settings.