Ruckus IoT server has 1.4 software version, which we have also now tested in the 3K office. We conducted integration tests for Zigbee/BLE equipment from various IoT equipment manufacturers.
The IoT server is an interface between standard local IoT devices and the Internet. With the help of an IoT server, Ruckus Wi-Fi base stations become an IoT gateway network that is secure and easy to connect. If Ruckus Wi-Fi is available in the area, it is easy to add any standard third-party IoT device at any point.
Ruckus IoT server is N + 1 redundant, which allows to create high-availability IoT systems, such as pass-through, alarm systems, geofencing, etc.
The coexistence algorithms have been improved in the new version, it is known that Wi-Fi devices and separate IoT devices are always in conflict with each other. Ruckus's central IoT server solution, where Zigbee, LoRa, BLE gateways are regular Ruckus APs, solves this problem.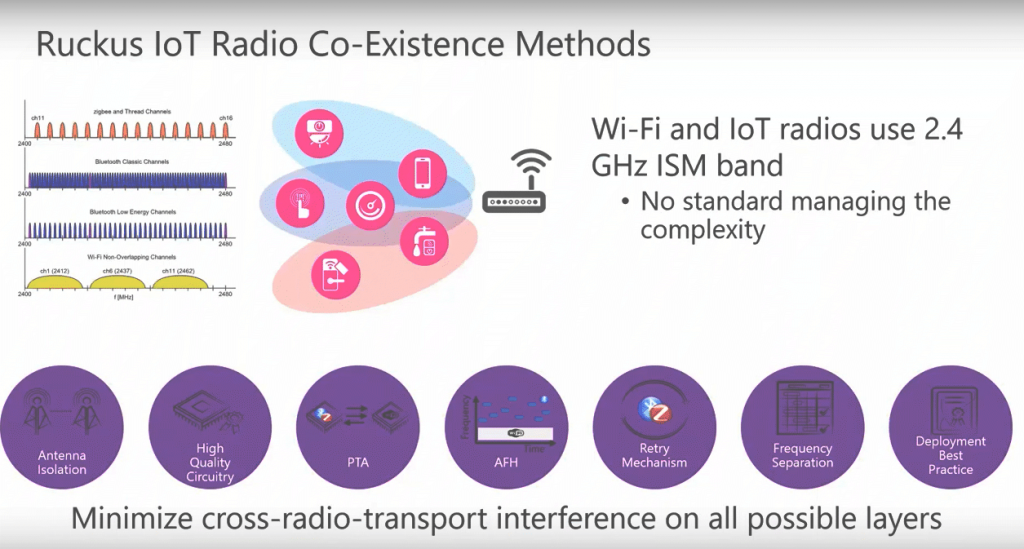 The Ruckus system results in a unified communications network that includes a network solution managed by Wi-Fi, Switches, Zigbee, BLE, LoRa (this radio will be ready at the end of 2019) devices.
The videos introduce Ruckus' IoT solution to the hotel industry, but IoT is suitable for many other areas.
The current version 1.4 is compatible with the following software and hardware:
Hardware:

• H510 Access Point (H510)
• R510 Access Point (R510)
• R610 Access Point (R610)
• R710 Access Point (R710)
• R720 Access Point (R720)
• T310 Access Point (T310)
• E510 Access Point (E510)
• T610 Access Point (T610)
• R730 Access Point (R730)
• I100 IoT Module (I100)

Compatible software:
• Virtual SmartZone High Scale (vSZ-H)
• Virtual SmartZone Essentials (vSZ-E)
• SmartZone 100 (sz-100)
• Ruckus IoT Controller (RIoT)