Although MESH connections have been in use since the second generation of Wi-Fi, it's only with the advent of the 6G 802.11ax standard has a new quality emerged. MESH connections are required for temporary networks or in cases where the cable network cannot be transported to all locations and it is necessary to expand the coverage area in just one part of the room, but the cabling work is complicated. Use cases can be found in warehouses, apartment buildings, offices and private houses.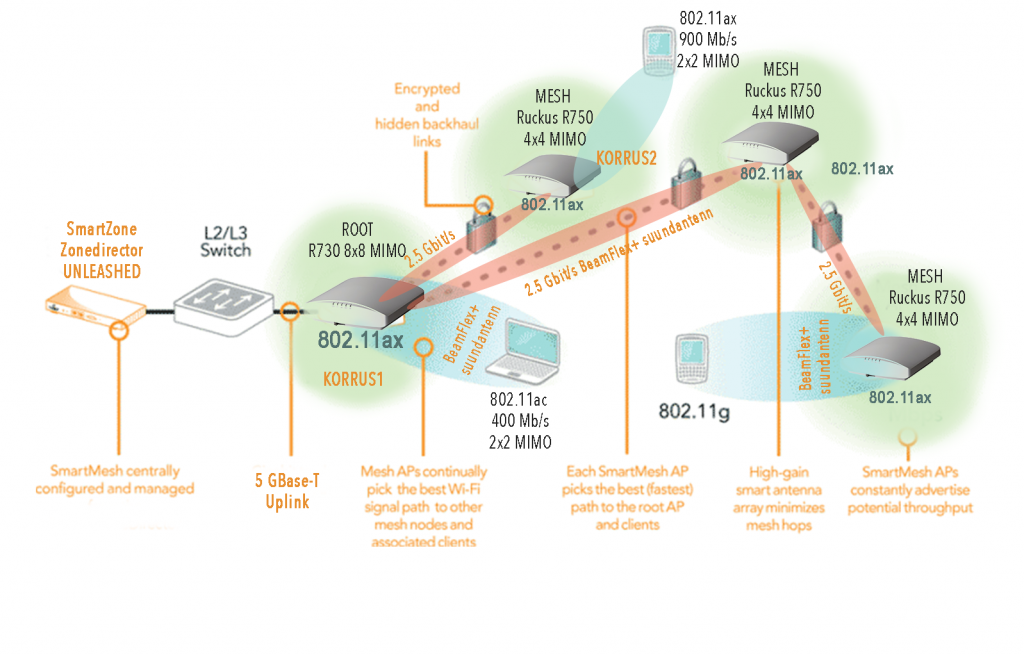 Why is the situation especially relevant with the advent of 6G 802.11ax Wi-Fi? With the 802.11 a/b/g/n/ac standard, there is so little bandwidth in the air that most for AP networks it was not feasible to build an uplink connection wirelessly. The new standard allows you to communicate with many devices simultaneously. This creates in 11ax standard devices capability to have a very large number of clients and throughput channels. Thus, for example, a 5 Gbps AP connected to a conventional network may send packets to five MESH wireless APs simultaneously, each AP having its own frequency resource block. This OFDMA communication channel (two-way) reduces latency and allows serving a very large number of customers. In addition, the 11ax standard will be used exclusively in a separate band in the 6 GHz band, in Europe it is 5.9 - 6.4 GHz, and discussions have begun.
For example, if you have 9 R730, R750 802.11ax APs in the network, you can also connect 6 of them via the air. If the signals are good, the network bandwidth will be in the range of 5-10 Gb / s, which is already sufficient communication capacity for client devices that associate with the network with older Wi-Fi standards. So only 3 cables need to be routed and a small switch is needed, the rest of the AP needs to be connected to the mains.
The opponent immediately describes the situation that the PoE power supply has to be carried anyway, right? Yes, this is true, but many houses simply do not have an in-house distribution network, so it would still cost a lot of money for full cabling and switches. And if there is not enough for MESH at some points, you can always add cables later. The situation is similar in outdoor networks, for example, there is a power supply at a distance of 150 m, but getting optics there is not so easy over the yard.