Voice over WiFi
As the name suggests, VoWiFi is a solution where a mobile network call is made using a WiFi network. This means that the phone does not use a 4G / 3G / 2G(Edge) mobile network to make calls, but a WiFi connection or wireless internet. It is therefore a service that supports and in some cases replaces the mobile network.
A similar VoLTE (Voice Over LTE) solution means that the call is made over the Internet, but the 4G Internet connection provided by the operator is used. In other words, they complement VoLTE and VoWiFi and do not replace them.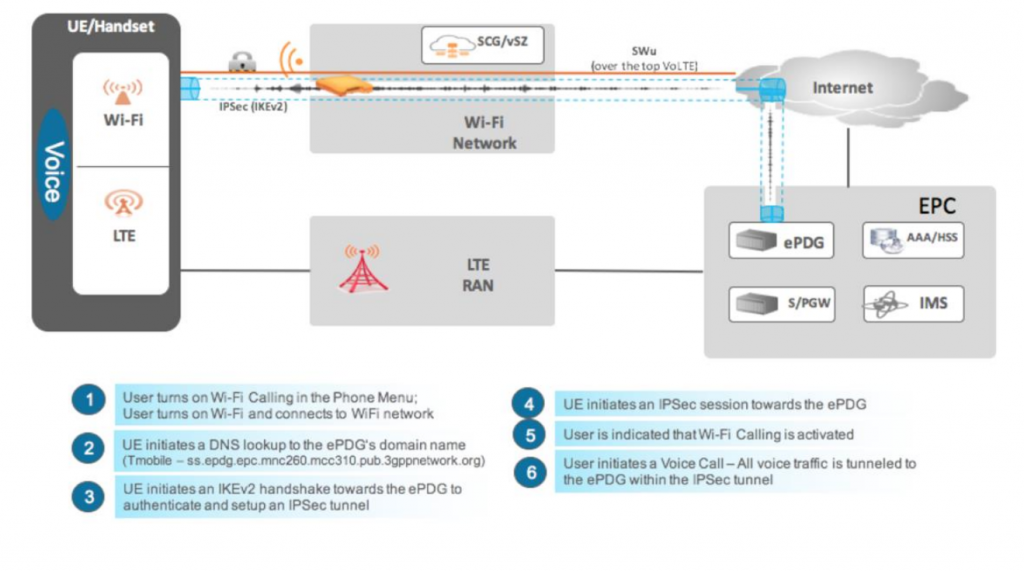 Why to use?
The advantages of VoWiF are evident indoors and in situations where in some parts of the building the coverage is not sufficient for VoLTE speech. The phone selects automatically the available WiFi network to make the call and the user may not even notice it. When moving out of WiFi coverage, the call is seamlessly taken over by the 4G mobile network or VoLTE.
In 99.99% of cases the VoWiFi also greatly reduces the phone's radiation level during a call, so instead of 200 mW, we start with a 20mW Wi-Fi transmitter or even less.
International roaming!
One of the most important areas of use is for travelling abroad, where roaming charges can be very high, in which case it is nice to have business calls and connect with loved ones over the local WiFi network. In this case, the price of the call is determined by what is the home/hotel network, the quality is many times better and all calls can be received, the connection is on the order of magnitude (10X) faster than through various roaming networks in mobile communications.
Does Wi-Fi have enough resources?
Wi-Fi has not dealt with very high customer densities in previous years, problems were solved in the 802.11ac Wi-Fi 5 standard and things were completed in the Wi-Fi 6 standard.
In fact, current Wi-Fi 5 and Wi-Fi 6 standards with new phones (and Wi-Fi calls are supported mainly with recent/new phones) have long been more powerful than 5G cellular base stations. Thus, with several hundred simultaneous VoWiFi calls to one AP, it is sufficient to choose ZoneFex R650 as the base station. It can do bidirectional OFDMA, Beamforming, MU-MIMO whereas 5G can manage only OFDMA modulation and partly multiplexing.
How to use?
To use the service, the customer must have a supported smartphone. You should also check that the latest software is installed, as some models add VoWiFi during a software update. You also need to turn it on in your phone.
Telia and Elisa offer a list of phones that support VoWiFi on their website.
How to configure Ruckus SmartZones VoWiFi.
What to consider with Ruckus' SmartZone solution for VoWiFi? Especially in cases of high-density network solution and many simultaneous users, also, it is recommended use it in all corporate networks. In SmartZone, under the desired network, add a Wi-Fi calling profile, in which you can also define the operator's gateway hostname and ip information. The profile helps the voice phone to have a higher priority and also to have a preference when roaming between base stations.
In SmartZone Management, under Wireless LANs, navigate to the desired network, select it and click 'Configure':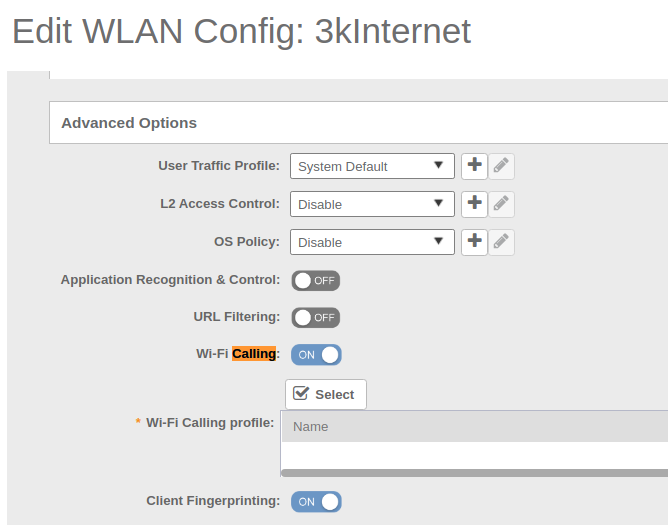 Select Select, select Select Wi-Fi Calling Policies, there you can create a new profile by clicking on the '+' sign next to Available Profiles: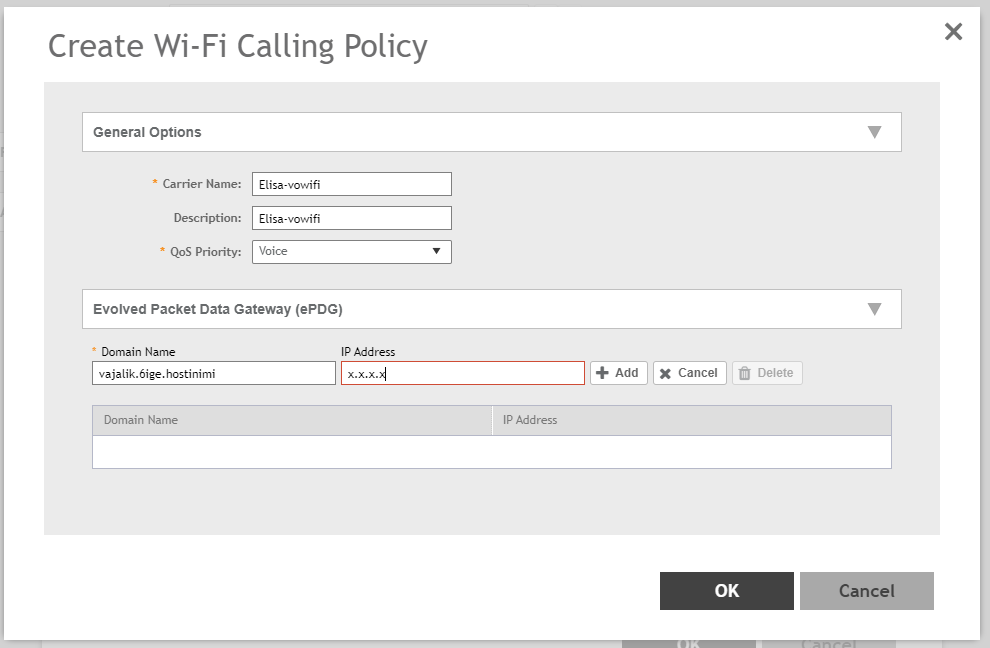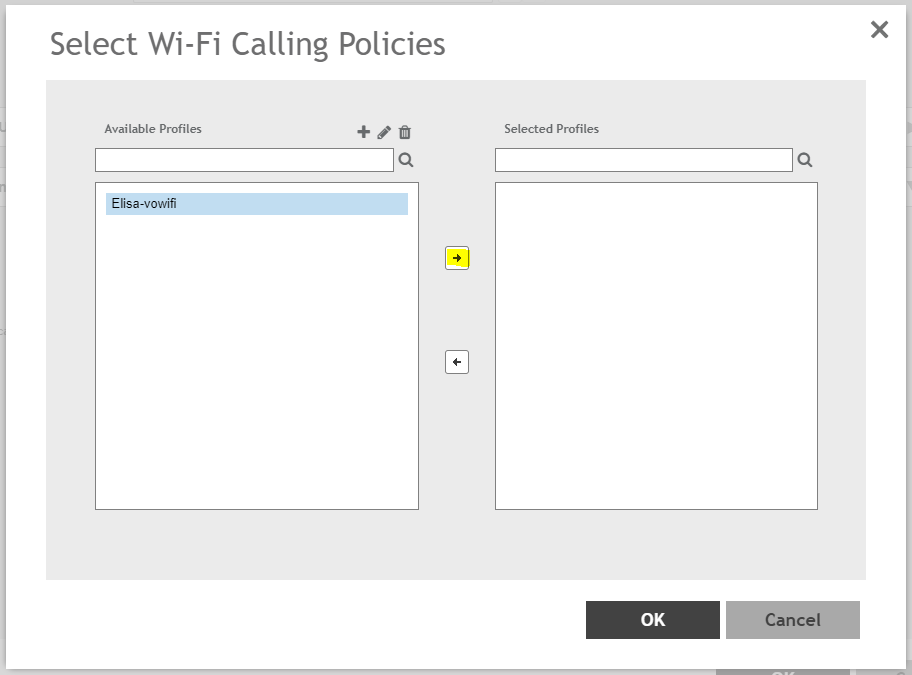 Move the completed profile to the next box with the arrow, press OK and you're done! You can find the Ruckus guide at the following link.
What does adding VoWiFi profile for a Wi-Fi network enhance?
Ruckus' Wi-Fi calling profile allows you to define higher QoS for calls and also collect the the call quality statistics. Ask the 3K support for the IPs required for profile setup.
Also invisible roaming between wi-fi base stations and priority over other data traffic is activated.
You can give preference to the VoWiFi service of certain operators, so if the network is set up by a certain operator it is possible to give priority to calls to that operator.